---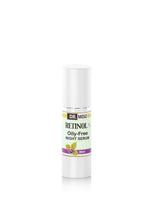 Retinol 1% Oily Free Serum 30ml
Dr. Meso
DR MESO OILY FREE Retinol 1% Night Serum
30ml in airless pump bottle.

For Acne Prone Skin and Acne Scars!
Clinical Keratolytic Action!!!!!!!!
- Strong, powerful action for acne prone skin. This light serum penetrates fast and deep to unclog pores and provide smooth and healthy skin.
-Diminishes and or will eliminate Acne Scares, Warts, and Rosacea
-Retinol reduces fine lines and wrinkles by increasing the production of collagen.
-Stimulates production of new blood vessels in the skin, which in turn helps maintain structured skin colour.
-Fading of age spots and smoothing out rough patches on the skin
Our Promise
DR MESO PRODUCTS ARE MADE IN SMALL BATCHES WITH PREMIUM QUALITY INGREDIENTS . 100%  NATURAL, VEGAN, NO PARABENS, NO SLS. PHARMACIST FORMULATED UNDER NATUROPATHIC PRINCIPLES TO KEEP IT CLEAN AND SIMPLE WITHOUT HARSH CHEMICALS.
USE
(Use Retinol Accordingly and Safely!!!!!!!) to prevent unnecessary side effects:
Week 1- Use Serum at night time only. Once this week
Week 2- Use Serum at night time only. Apply Serum twice this week
Week 3- Use Serum at night time only Apply Serum no more than 3 times a week! Keep the 3/Week system consistent to prevent side effects.
Directions: (apply to acne prone skin and acne scars). After cleansing the skin, apply a small amount at night to recommended areas. Avoid Lips, avoid eyes, and avoid the corner of your eyes. Adjust usage according to results.