Welcome to DR.MESO,
a Professional Skin Care - Inspired by Naturopathic Principles.
The core of DR.MESO consists of providing you with small batch, premium quality, naturally active ingredients derived from a controlled hydrolysis of vegetal proteins. DR.MESO creams, serums & peels address distressed skin conditions effectively and naturally.
Surprisingly, Dr. Meso is the original enthusiastic booster for the practice of CLEAN BEAUTY ...even before it became a popular hashtag! Moreover, we have been encouraging the use of these SKIN MICROBIOME FRIENDLY formulations since the beginning. 'Nuff said. We are here for you.
Dr. Meso enhances, complement & extend the effectiveness of core clinical treatments. We are proudly formulated, tested & manufactured in Canada!
DR MESO ANTI-AGING COLLECTION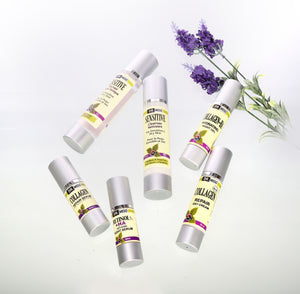 ANTI-AGING STARTS HERE
What damages collagen? There are so many factors to consider: the environment, high sugar consumption, smoking, sunlight, are just some of them.
Our sensitive and anti-aging line is directly formulated to maximize the delivery of collagen with hyaluronic acid. Rejuvenate your skin to look younger, healthier and smoother than ever before.
SMALL BATCH. PREMIUM QUALITY.
SHOP NOW
All my life I have had dry skin. After trying so many creams, I never found a solution to the dryness. After 40 my skin began changing – visibly & frustratingly worse. My Dr. explained that after age 21 we begin to lose 1% collagen per year. Alcohol, tobacco & sun speed this up another 3% per year. The problem was clear. Without fillers, DR.MESO offered the best natural collagen rebuilding & hydrating solution -- especially the DR.MESO Night hydrating gel. - Sandra R. (Hamilton, ON)
DR MESO THINNING HAIR COLLECTION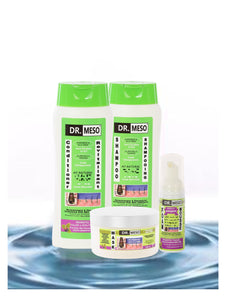 THINNING HAIR LINE
Dr. Meso thinning hair line contains clinically tested products with natural DHL inhibitors and anagain, that provide you with thicker, fuller and healthier hair!

Prevents hair fall, repairs split ends, boost blood flow to the scalp, supports hair growth, increases volume.
shop NOW
I was sceptical for so many years, buying shampoos and products that promised to stop hair loss. After paying so much over the years, I was very frustrated that all these products did not give me the promised results -my hair back. Big Thanks to DR.MESO shampoo, conditioner & supplements. After 3 weeks my hair stopped falling out, I got much more volume. After 2 months, I could see the new hair growth. Thanks DR.MESO for returning to me hope which I had lost. - Kaitlin (Woodbridge, ON)
DR MESO OILY / ACNE PRONE SKIN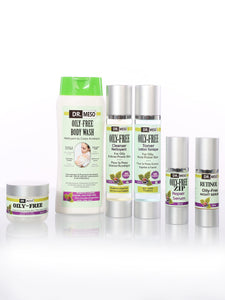 YOUR SKIN MATTERS
Acne and pimples are inflammation of the skin glands and hair follicles. Washing away surface oils does not do enough to prevent reoccurring pimples. Dr. Meso acne system is multi functional; cleansing exfoliating sebum control anti microbial action.

Acne, oily skin problem that many people suffer. Teenagers , adult, hormonal acne, stress. Our products are specially formulated to tackel oily skin, and acne causing bacteria that can seep into the skin.
SMALL BATCH. PREMIUM QUALITY.
SHOP NOW
I'm 35. And during my teenage years I had acne...went through many products. Some helped...but too drying...and acne returned. And some gave an allergic reaction. Later it got worse. After a consult with my ND, she recommended DR.MESO Oily-free product. After 1 month of this regime, my skin cleared, improving every month. I'm still following the DR.MESO regime...and have been acne free for 2 years! - Ashley (Scarborough, ON)
PROFESSIONAL TREATMENT AT HOME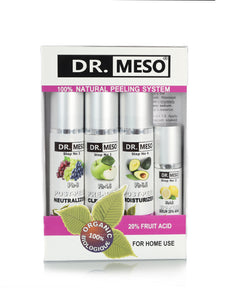 YOUR SKIN MATTERS
At-home beauty treatments used to be just a hit & miss alternative to spending money on expensive salon appointments. But right now, choosing & experiencing a quality home face mask or high-tech skincare regime from Dr. Meso will bring you welcome, satisfying and rewarding beauty-health results.
SHOP NOW